Taipei Municipal Fuxing High School
HH2o Design Workshop Collections
Taipei Municipal Fuxing High School|Academy of Small Animals
Taipei City | Landscape
Children who grow up with animals will learn to take responsibility and consider the needs of others at an earlier age.
Value Individual Quality and Integrate Functionalities to Create a Friendly Synergetic Space for Students and School Pets
Fuxing Senior High School has proactively promoted life education on campus for years. Through adopting stray cats and dogs, the school practices animal protection. To date, the school has five pets--three dogs and two cats. These furry animals are daily companions of teachers and students. They were originally kept in the hallway outside of the Office of Student Affairs, but the space was not an ideal place for them in the long run, and there lacked an interactive space where teachers and students of the Animal Protection Club could share ideas and thoughts.
With the concept of encouraging teachers and students to coexist and thrive with the animals, the design team utilized the unused semi-outdoor sunken space between the Office of Student Affairs and library, expanding it outward to the fan-shaped platform, and planned three areas for the cats and dogs, interaction, and teaching. In addition to answering the basic needs of the animals and providing them with a safe shelter from wind and rain, the design team also created a portal area of life education, while also integrating water and electricity facilities and the terrazo platform where the cats and dogs are showered. This area is also used as an open space where teachers and students can interact with the animals outside of class. Moreover, considering the different natures of cat and dog, and that they need time to get used to new environment, all kennels have been designed to be portable, preserving some flexibility for animal behaviors and increased number of pets in the future. The design team hopes to create a life education garden of respect for life, companionship, and mutual learning.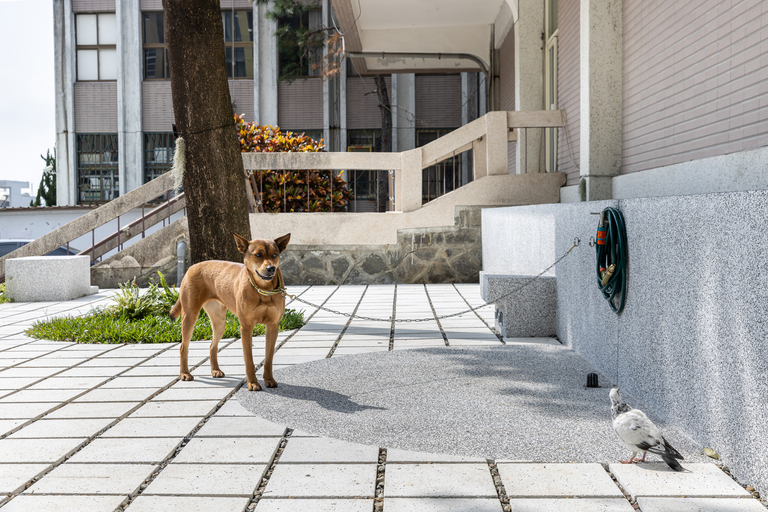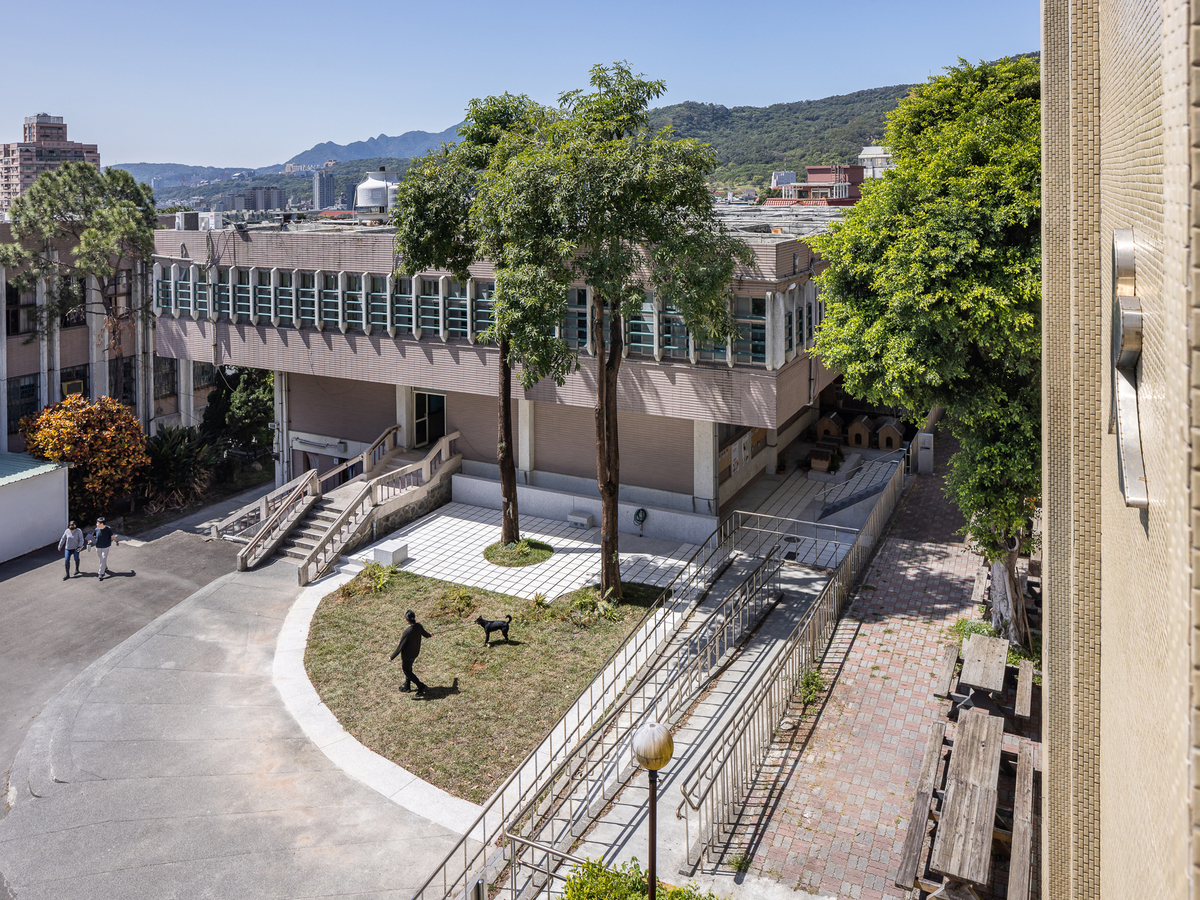 Design analysis
The semi-outdoor sunken space between the office and library was opened up to create three separate spaces for the cats and dogs, interaction, and life education.

Portable furniture is used in the kennels for flexible adjustment according to the behaviors or increased numbers of the animals.

Functions of water and electricity are integrated within the interactive and living areas, creating a comfortable space for showering and caring for the animals.

Weatherproof coating and stainless steel are for all furniture; plants that repel insects and endure humidity and dark environment are planted.
Redesign cases